Arsenal Football Club are based in North London and play in the English Premier League. One of the most successful clubs in English football, Arsenal have won 13 First Division and Premier League titles and 11 FA Cups.
Manager:Arsene Wenger. League:Premier League. Stadium:Emirates
Where to Buy Arsenal Tickets
The best place to purchase Arsenal tickets is directly from the club box office. However Arsenal fixtures always sell-out and buying tickets directly is very difficult. The other option would be to purchase them through recommended ticket website in the secondary ticket market (listed below).
Official Club
The starting place for fans to purchase tickets to see Arsenal is directly from the ticket office, however unless you have a yearly membership then you are not able to purchase any. The cost of an annual membership for Arsenal is £32, the most expensive membership for any club in the English Premier League.
The waiting list for Season tickets at the Emirates is extremely long, currently around 10 years, probably the longest waiting list in European Football. Purchasing tickets directly from the club at face value is very difficult and therefore if you would like to really see an Arsenal game then you either have to purchase on the secondary market or from outside the stadium.  I would recommend the first option to be guaranteed of a football ticket.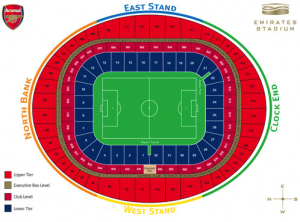 Safe Football Tickets
Due to high demand, it is very difficult to get tickets to Arsenal FC from official channels. However there is a large secondary market for the resale of tickets. We only recommend excellent websites that have a great history of delivering tickets as well as excellent customer service.
Please only purchase tickets from the websites listed below, I personally recommend these sites as being the best available online.
Who We Recommend
Buying Tip: Make Purchase Online – Ticket Confirmation is Instant and the order is guaranteed. 
| TICKET AGENT | RATING | |
| --- | --- | --- |
| | Number 1 Arsenal Website Online - 100% Guaranteed Tickets | |
| | Highly Recommended. | |
| | | |
| | Avoid Website. | |
If you do decide to purchase it would be appreciated if you went through the above links as this ensures that we can track any sales and offer free advice to more people online. SafeFootballTickets.com is the only free online website detailing advice and information of where to purchase Arsenal FC tickets.
Members and Ease of Purchase
The cheapest and safest way to get tickets is to purchase them directly from the club box office online, however this is often not a possibility.
In order to have the ability to purchase tickets you are required to have an Arsenal Membership, the cheapest being a RED Membership priced at £34.
This type of membership only allows you to purchase tickets if you are lucky to get to the front of the queue (online) and quick enough to purchase the minute they go on sale.
Each game 3,500 tickets are released to RED members only, the Arsenal website is the best place to see the date each game goes on sale.
Please Note. All Arsenal tickets and especially for big games sell-out within minutes online. Demand is always high for Premier League games and Champions League.
However Games in the FA Cup (depending opponents) and English cup are in less demand and therefore this is your best bet for getting a ticket to Arsenal.
2017/2018 Ticket Categories and Prices
The following prices are broken up in categories of the game. For example the higher prices are for the 'big' games such as Manchester United, Chelsea and Liverpool whilst the low prices are normally for cup games such as the Capital 1 cup.
Centre Upper £126 / B £73 / C £51 
Goal Upper £89.50  / B £52 / C £36.50
Wing Upper Back £83 / B £49 / C £34.50
Corner Upper Back £83 / B £49 / C £34.50
Corner Lower £63.50 / B £36.50 / C £26
Away Fans:
Adults £62 (B £35.50) (C £25.50) Over 65's/Under 16's £26.50 (B £15.50) C £13.
We are always looking at improving our guides so if you have anything to add or contribute then please feel free to contact us. We offer free guides and recommend secondary ticket agents in case you cannot get tickets. Please use our links so that we can keep this advice free and without advertisements.
Upcoming Games
| Fixture | Date | Stadium | Comments | |
| --- | --- | --- | --- | --- |
| All Arsenal Fixtures | All Season | Home/Away | Recommended Arsenal Football Tickets | |
Outside The Emirates
As with all stadiums in the UK, there are many local ticket resellers who sell tickets outside. Tickets for Arsenal can sell for several hundred pounds for most games.To purchase Arsenal tickets then our advice is get them in advance as much as possible, whilst some games change for TV reasons most games do actually keep their original date. With Arsenal playing fantastic football the demand for tickets increases and with the season progressing the price will surely go up as they continue to do so. If Arsenal are in the chance to win the league then expect the last games at the stadium to sell out almost immediately when they go on sale.
Purchasing now could see the difference between being at the stadium when Arsenal win or not being at the stadium because the price has way exceeded your budget.
20017/2018 Seasons Fixtures
October
14/10/2017 15:00 Watford v Arsenal
21/10/2017 15:00 Everton v Arsenal
28/10/2017 15:00 Arsenal v Swansea City
November
04/11/2017 15:00 Manchester City v Arsenal
18/11/2017 15:00 Arsenal v Tottenham Hotspur
25/11/2017 15:00 Burnley v Arsenal
28/11/2017 19:45 Arsenal v Huddersfield Town
December
02/12/2017 15:00 Arsenal v Manchester United
09/12/2017 15:00 Southampton v Arsenal
12/12/2017 19:45 West Ham United v Arsenal
16/12/2017 15:00 Arsenal v Newcastle United
23/12/2017 15:00 Arsenal v Liverpool
26/12/2017 15:00 Crystal Palace v Arsenal
30/12/2017 15:00 West Bromwich Albion v Arsenal
January
01/01/2018 15:00 Arsenal v Chelsea
13/01/2018 15:00 Bournemouth v Arsenal
20/01/2018 15:00 Arsenal v Crystal Palace
30/01/2018 19:45 Swansea City v Arsenal
February
03/02/2018 15:00 Arsenal v Everton
10/02/2018 15:00 Tottenham Hotspur v Arsenal
24/02/2018 15:00 Arsenal v Manchester City
March
03/03/2018 15:00 Brighton and Hove Albion v Arsenal
10/03/2018 15:00 Arsenal v Watford
17/03/2018 15:00 Leicester City v Arsenal
31/03/2018 15:00 Arsenal v Stoke City
April
07/04/2018 15:00 Arsenal v Southampton
14/04/2018 15:00 Newcastle United v Arsenal
21/04/2018 15:00 Arsenal v West Ham United
28/04/2018 15:00 Manchester United v Arsenal
May
05/05/2018 15:00 Arsenal v Burnley
13/05/2018 15:00 Huddersfield Town v Arsenal