Update 1st September 2023 :
The demand for Liverpool tickets is always high, especially games at Anfield.  Tickets for the new 2023/2024 season are now available to purchase. We recommend to only purchase from trusted secondary ticket websites. See below for which website we recommend to purchase tickets so you can watch Liverpool FC. 
The aim of this guide is to give you all the options on how & where to buy Liverpool tickets so that don't lose money.
Liverpool Football Club is one of the biggest teams in the world with an extremely large fan base, thousands of fans from all around the UK and world visit Anfield stadium each home game.
The demand for Liverpool tickets is unlike any other team. 
The main rivals of Liverpool FC are Everton (Merseyside derby), Manchester United, Chelsea and Arsenal; tickets to these games are normally the most expensive of the Premier League season.
Liverpool has one of the biggest fanbases in world football, with millions of fans around the globe supporting the Reds. 
Guide on How and Where to Buy Tickets
Our number 1 choice for Liverpool football tickets can be seen listed below, these are fully guaranteed ticket agents. We have personally used these for tickets and have advised thousands of fans over the past 10 years without any issue. As with all Liverpool F.C games, tickets are in very high demand. If you want to see a home game then prices are actually lower than usual for this season.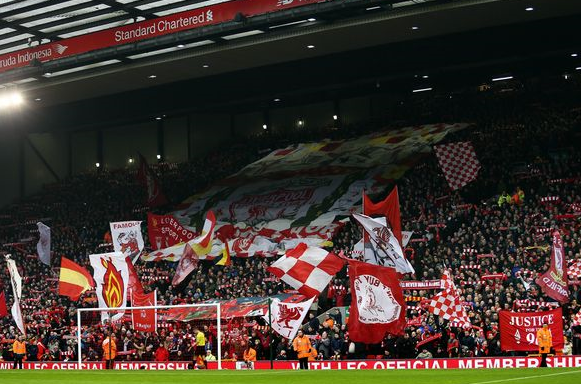 Official Outlets
The first option we recommend is to try to get officially for the Liverpool FC box Office, however most games are often sold out months in advance. In order to purchase tickets for Liverpool games, you first have to be a member which costs around £35.99 each.
Liverpool FC operates a loyalty scheme so for Category A games to get tickets, official members have to have attended 12-13 games the season before.
The membership doesn't guarantee you tickets but it allows you to purchase them if they become available. Memberships last for 1 season and therefore unless you want to purchase tickets to more than 4/5 games this season then it is probably not worth investing the money in the membership.
Please note that when a limited number of tickets become available, it is almost impossible to get them due to the extremely high demand on the website.
Liverpool FC operates a loyalty scheme so to games to get tickets, official members have to have attended 12-13 games the season before.
As the demand for all Liverpool tickets are high, even with memberships you are still unlikely to get tickets for the major games. Tickets to the FA Cup and Carabao Cup (EFL) are probably the best chances you have of purchasing tickets.
The demand is extremely high for all Liverpool tickets, even with memberships you are still unlikely to get tickets for Premier League games.
Tickets for Liverpool are sold extremely fast and hundreds of tickets disappear before you have even reached the ticket buying screen. 
Where to Buy Safely and Securely
Whilst there are many websites online that offer tickets for Liverpool FC matches for sale, only a handful can be recommended.  My personal choice is to use the first option to be guaranteed delivery of your seats.
The list below is always updated; these are the best online and have a great history with football tickets.
Buying Tip: Make Purchase Online – Ticket Confirmation is Instant and the order is guaranteed. 
My Recommended Ticket Agents
*Tip: Make All Purchases Online – Confirmation is Instant. 
Secondary Ticket Market
Whilst our main advice would be to try and purchase tickets at face value from the club, however this is extremely difficult due to the high demand and limited number of tickets available.
Whilst Liverpool FC ticket prices can be high on secondary platforms, there is always availability, giving fans the opportunity to watch the team. With the Liverpool FC ticket demand, there are new ticket websites  being created all the time. As in all industries, there are some trusted companies which will deliver the tickets, however there are some with not the best reputations. This is the reason we decided to create SafeFootballTickets.com.
We have been contacted hundreds of times when people have fallen victims to purchasing tickets online and not receiving them without even getting a refund. The recommendations we give here are to ensure you get the best ticket options and purchase your Liverpool tickets, safely and securely.
About Liverpool Football Club
Liverpool FC is of the most successful British teams and have won every available trophy in their fantastic history.  With this success over the years Liverpool now have one of the biggest fan bases in the world. In terms of fan numbers Liverpool is in the world top 10. Liverpool F.C. have won five European Cups, three UEFA Cups and three UEFA Super Cups. The club has also won eighteen League titles, seven FA Cups and 8 League Cups.
The average order for Liverpool FC tickets is over £300 with most tickets costing around £100 each, big games can cost anywhere in the region of £300 each. With this I fully advise you to purchase tickets from trusted suppliers which I have listed above. I constantly update this table so that only trusted ticket agents are listed. If you do decide to purchase tickets then we would appreciate if you went through the links below so that I can manage this website, free from advertisements.
The Kop (Spion Kop)
This is the most famous stand in the stadium with visitors from around the world all wanting to be seated there. The atmosphere generated in The Kop is probably the best in the UK and if not Europe. In the past the Kop used to be standing but now its all-seated .
This history of The Kop dates back to the beginning of 1900's when the stand was created for the fans after winning the English Championship for the second time.
Main Stand
From a view point, The Main Stand at Anfield is probably the best due to it being along side the pitch. The press and directors boxes are all indicated in this stand which gives the indication of how good the stand is. I would recommend that you ask for tickets in this stand if you want view over atmosphere.
Anfield Road
This stand is located opposite the KOP and therefore is situated behind the goal at one end of the stadium. This stand also generates a fantastic atmosphere and on European nights this is equal to KOP. Not a bad area to sit so if you can get tickets in this stand I am sure you will not be disappointed.
Centenary Stand
The Centenary Stand was built to commemorate the club's 100 year anniversary. The stand accommodates 12,000 fans and whilst not the best atmospheric this is a fantastic area to be seated.
Ticket Prices
As with other Premier League clubs, Liverpool FC price tickets depending on the competition and the type of game it is.
CATEGORY A Fixtures (Manchester United, Manchester City, Chelsea, Tottenham Hotspurs, Everton, Arsenal) Prices: £44 to £52
CATEGORY B FIXTURES(Aston Villa,  West Ham, Nottingham Forest)Prices:£41 to £49
CATEGORY C FIXTURES (Crystal Palace,  Sheffield United)Prices: £36 to £46
The most expensive tickets are those in in the Main and Centenary stands which are those along side the length of the pitch, hence the best view of the game.
Season Tickets
Liverpool FC season tickets are the most prized ticket for any supporter and these are in very high demand every year. The waiting list is one of the longest in European football. The prices of a season ticket for the current 22/23 season start at £710 and go up to £850.
The season ticket are valid for all Premier League games and it costs extra for other games including Europe and the FA cup.
FA CUP and LEAGUE CUP
Ticket Prices range from £44 to £54 for the current 2023/2024 season.
Member Ticket Sale
Liverpool Football Club is different to most other football teams in terms of ticket sales as they sell tickets in batches to members with sufficient loyalty points both in July and November each year. In simple terms this means that you can purchase 10 tickets for the first half of the season in July before the season starts and tickets for the second half in November.
Whilst this has it's benefits such as being able to purchase all tickets in one go this also means that you must have the finances available to be able to buy the tickets. Not all fans have this amount of money and therefore miss out on the possibility of getting tickets.
However, tickets can also be purchased before each match day for members but this is also very limited and it is very difficult to be quick enough to purchase tickets.
Away Tickets
Due to extremely high demand for tickets in the Liverpool section at away games, the requirements for purchase are increasing each year. Unless you have purchased previous away section tickets from the club then chances are very low especially for the Premier League games.
Price Comparison Websites
There are now many websites comparing prices and offering cheap tickets to Liverpool football games. Whilst many of the websites are good, they often link to websites which have no guarantees and speculate on ticket prices. Remember to buy Liverpool tickets from trusted and safe websites like our recommended options above.
What if I just want to purchase tickets for 1 game?
The first requirement is to purchase an official Liverpool FC membership and then you need to apply for the game several weeks in advance. I would not recommend you purchase a membership to only apply for 1 game, the chances of getting them are very low, they sell-out immediately both online and on the telephone. 
Gumtree
I cannot stress how important it is not to purchase from Gumtree and other classified websites. These are hubs for fraudsters to operate and they will tell you anything so that you send them money and get scammed. Hundreds if not thousands of people get scammed every year by people operating on these websites.
An example advert would look something like this
2 x Tickets Liverpool vs Manchester United £125 each.
Main Stand area. No time wasters, please contact me.
Now people will see this advert and think that this is a bargain and that they should contact to purchase them. What normally happens is that you phone them and they say that they are far away from Liverpool, normally they are in Devon or at the top end of Scotland and have work commitments, therefore cannot meet you in person. They will ask you to send them money either Western Union, UKash or a direct bank transfer. They will then tell you that they will send you the tickets. They will then turn their phone off, £250 richer.
Example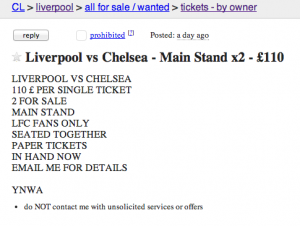 For the purpose of this guide I emailed and stated that I was interested in the tickets and needed to know how to get them.
Email Response.
Hello

Yes I have tickets but I am based in St Ives so if you want them you have to be quick as I have many people asking. You can pay be through Western Union and I will get them delivered to your address.

Thanks
By stating that he is based far away and that he has many people asking about them then this gives a sense of urgency. People will often pay because they are to eager to deal with the first person that offers tickets. There is zero possibility of this advertiser having the tickets and sending them. Don't fall victim to this trick. If it seems too good to be true then it probably is.
As featured on: Liverpool FC Blog

Hotels near Anfield
The Liverpool Stadium, Anfield is not located in an area with many hotels and activities for tourists. The best hotels in Liverpool are located in the city centre, see the booking website here. The stadium can be accessed by public transport or via taxi and is not a long distance from the hotels in the city. It is recommended to probably get the the stadium 2 hours before kick-off to enjoy the pre-match buildup and the hype of the game.
If you do decide to purchase Liverpool tickets then if you could kindly click on the links above that helps keep the site without advertisements. Thanks
Buying Outside the Stadium
It is possible to purchase tickets outside Anfield on match days from local ticket resellers. As with all major events 99.9% of tickets will be genuine however there is a small minority of tickets that will not be.  If you have no other option than to purchase tickets outside the stadium then we would recommend that you look at any ticket carefully before you decide to purchase it to make sure that it is a real ticket. We would also ask any seller to walk you to the turnstile.
If you found this guide useful then we appreciate it if you could share.