Update 1st September 2023:
Tickets for all Manchester United matches are now available to purchase. See below our trusted recommendations of where to buy.
The Theater of Dreams is the name given to Old Trafford, one of the world's most iconic football stadiums, home of Manchester United. With one of the biggest following in world football, thousands of fans from around the world visit to watch a match of the Red Devils.
Manchester United tickets for nearly all games are in very high demand. If you want to purchase tickets then my advice would be to only use a trusted, safe and reliable ticket website. The websites that we recommend have a 100% ticket guarantee and good customer service which will ensure that you get your MUFC tickets for the game.
Information
The best way to find cheap tickets is to try and attend match which is midweek or against a team lower in the league. Tickets for weekend matches tend to be more expensive than face-value due to the high demand from fans from Manchester, the UK and around the world.
Official Tickets
Before booking tickets elsewhere it is worth trying to book directly with Man United. Most tickets for the Premier League matches go on sale before the start of the season and often sell out within days. The most in demand matches go on sale via a ballot system but as you can expect the chances are low. Mid week games in the EFL, FA Cup are often the cheapest matches to attend with some of them going on general sale, this happens only a couple of times per season.
In order to purchase tickets for Manchester United directly through the club, the requirement is to be an official MUFC member, the cost of which is £35 per adult and around £25 for children per season. Please Note having a membership does not guarantee any tickets for any game but it simply allows for ticket application, normally several months before the fixture.
Tip If you aim to watch several Manchester United matches in the season, then an official membership is a recommended investment. 
Official Ticket Screen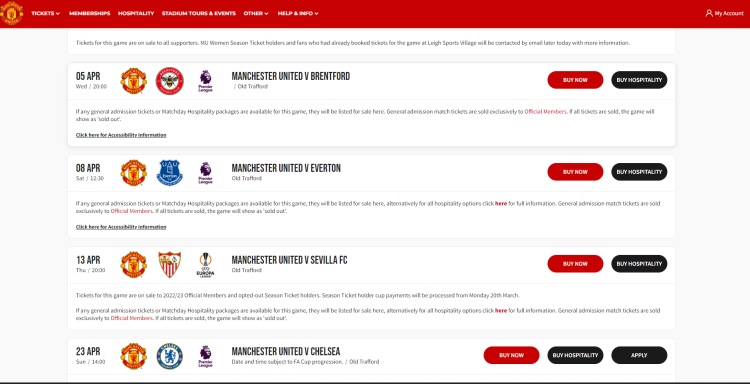 When tickets are available on the main website, they will be displayed as below. However, for most Manchester United games, tickets do sell-out and availability is highly limited. From our experience, when tickets are available directly from the club, the prices can be expensive. In the example below, ticket prices start at £395 for the match against Everton.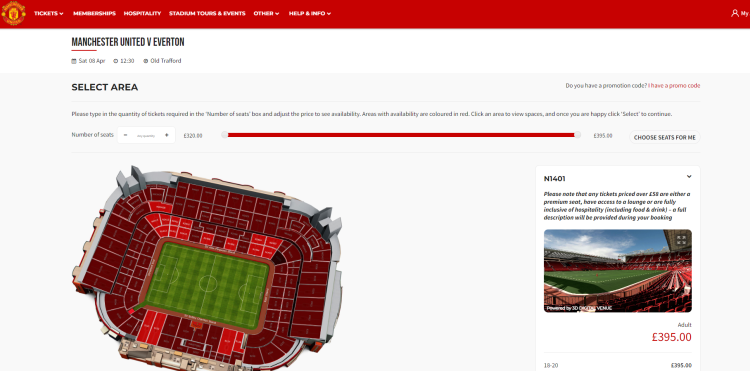 Please Note. Any fixture against any major rivals such as Liverpool, Manchester City, Arsenal, Chelsea are classified as the biggest games of the season. With this the chances of getting tickets directly from the club are very low.
Official Membership
If you want to purchase tickets for more than one game this season, the cheapest membership us the Manchester United LITE option, currently £35.. The main benefit of being a Manchester United member is that there is the option to purchase tickets for the games. Whilst the membership doesn't guarantee availability, it is a requirement to purchase home tickets. To confirm, if you do purchase tickets for Manchester United from the official box office, a membership for all fans will be required, however this can be purchased at the same time.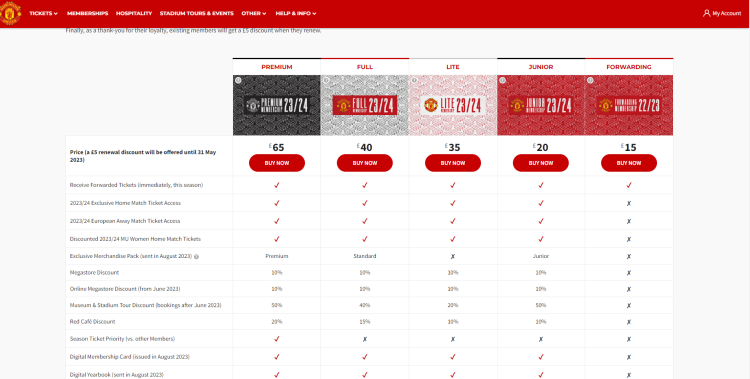 After selecting the membership type, you will then be give the option to Login or Register.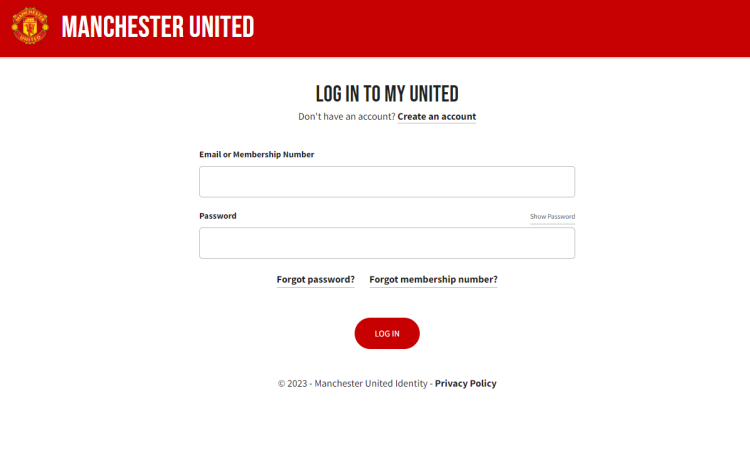 Registration Screen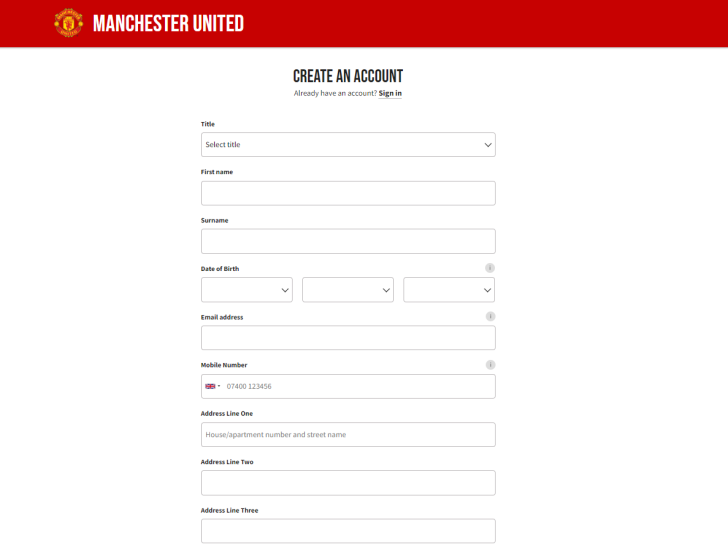 Secondary Ticket Market
| TICKET AGENT | RATING | |
| --- | --- | --- |
| | Our Choice. Highly Recommended. | |
| | Avoid Website | |
The following table contains a list of online ticket agents that we at SafeFootballTickets.com trust for Manchester United tickets. Only websites that we completely trust and have 100% ticket guarantee are included in our recommendations.
The aim is to help football fans like myself find safe, secure and authentic tickets online from the best sellers.
Unfortunately it is very difficult to get tickets to Manchester United from official channels and therefore there is a large secondary market for the resale of tickets. We only recommend excellent websites that not only deliver the tickets to your home address/hotel in Manchester but also have an excellent customer service available in case you get any problems. See our recommend Manchester United (MUFC) ticket suppliers below.
Select the match that you want to attend: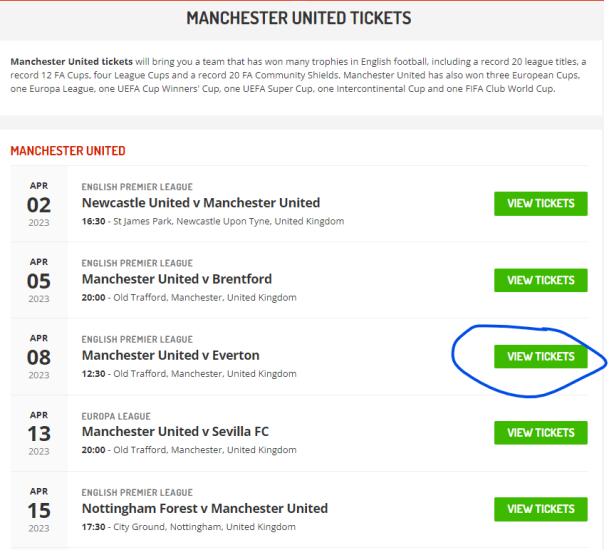 Ticket Selection Screen. 
Select the tickets that you want for the game, all tickets are fully guaranteed.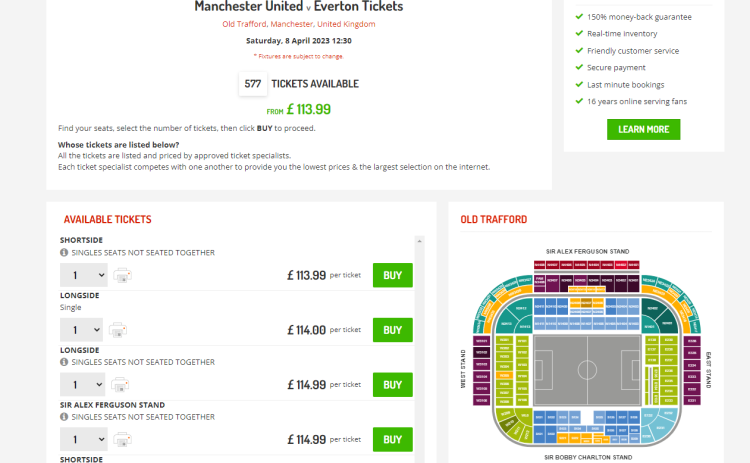 Buying Tickets on Twitter
There are several Twitter Accounts dedicated to the facilitate the exchange of tickets between fans. However, time and time again, scammers and fraudsters target people on these platforms looking for tickets.
Tip: Under NO circumstances transfer anyone any money prior to receiving the tickets.
Official Ticket Prices:  £52 North/ South Stand – West Stand Lower : £30
Seat-Compare.com
One of the leading websites in the Secondary Ticket Market is Seat-Compare.com, the startup focusing on comparing tickets for events including Manchester United. The interactive map of Old Trafford stadium is a great feature and the website includes all fees and delivery costs means that users can view the best deal in one place.
Away Tickets
Manchester United away game tickets are extremely difficult to purchase officially. In recent years away teams have made the away sections smaller and limit the number of tickets available for the Man. Utd fans. Due to the demand for the tickets,  the away 'end' often is in more demand than the home team. We wouldn't recommend sitting in the wrong section of the stadium as you could be denied access.
If you want to purchase tickets in the Manchester United away section then unless you are a corporate hospitality member or an Executive Club Members you will find it very difficult.
"Domestic away tickets are only available to Executive Club Members and Season Ticket holders who have attended all home cup fixtures"
In order to get tickets for the Man United away games then I would personally recommend you use the websites listed above.
Buy Trusted Tickets
| TICKET AGENT | RATING | |
| --- | --- | --- |
| | Our Choice. Highly Recommended. | |
| | Avoid Website | |
About Manchester United Football Club
Manchester United Football Club is an English Premier League football club based at the Old Trafford stadium in Manchester, United Kingdom. Old Trafford is the second largest stadia in England after Wembley with 77,700 seats available on a match day.
Manchester United are one of the most successful teams in European football as well as having millions of fans worldwide. Demand for tickets is always high both from UK fans and internationally.
Entry into Old Trafford
Tickets come in either paper or card format and work exactly the same way. For standard tickets simply go to the correct entry point, this is printed on the ticket and will be either North, South, East or West. As each stand has several different tiers it is important to enter the stadium in the correct block. See this YouTube video for a tour of Old Trafford.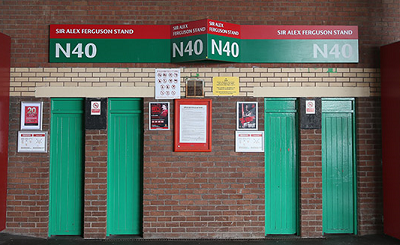 To gain entrance, pass the card to the electronic reader located outside each turnstile and the light will appear green when you can enter. Remember to purchase your seats for Man United from trusted suppliers.
FA Cup
The biggest competition of the season domestically is the FA Cup, of which Manchester United are the most successful team ever. With this the Red Devils always take the tournament seriously and will want to be at Wembley again in May. Manchester United FA Cup tickets are always available but often in higher demand for the semi-finals and finals.
Travel Agents (Hotels + Ticket Packages)
There are many companies which offer hotel accommodation and official tickets for the matches, however we have found that these are often over-priced and expensive. Booking your hotel and ticket separately is probably the cheapest way to arrange a trip to Manchester. The city of Manchester, Salford and surrounding areas have many hotels and all within a short public transport journey from Old Trafford.
As Manchester Piccadilly and Victoria connect the city with everywhere in the UK, getting to the game is easy. From the city centre, fans can take the Metrolink (recommended) to Old Trafford station, which is just a 15 minute walk to the turnstiles.
EFL Cup Final
More information about the final can be seen on our Carabao Cup Final tickets page.
Other Premier League Teams
For Chelsea FC Tickets then see our dedicated page for more advice and recommended options for both home and away games. If there are other teams that are not listed here that you would like us to feature then please do not hesitate to reach out and we will be happy to assist. Arsenal Tickets can be found here, whilst we are currently updating our Manchester City and Everton pages respectfully.