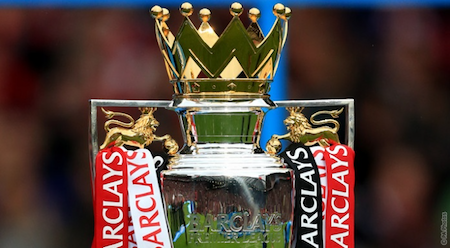 About The Barclay's Premier League
The English Premier League or Premiership as it is often referred to is the most watched football league in the world with over 212 countries now broadcasting any number of the 380 matches per season. The television revenue ensures that the world's best players player in the Premier League. Since the league started Manchester United have won the title a record 13 times whilst Chelsea and Arsenal have won it 3 times each respectively.
The international nature of the league and the fact that it is transmitted around the world means that demand for tickets to an English Premier League game is high especially for the top 5/6 teams in which all games are completely sold out.
Football in England is part of the culture and tradition and therefore hundreds of thousands of tourists visit England and enter a game. It is estimated nearly 1 million visitors per year attend a British football match. Wikipedia
Buying Premier League tickets.

It is important to mention that availability of Premier League football tickets changes from club to club:
Tickets are normally made available to club-members (fee involved) and 90% of games sell out before they are released to the public.
As with all stadiums, the best seats for the view of the match are alongside the pitch. These are normally classed as Category 1 tickets and are the most difficult to get.
Whilst being close to pitch is good to see the players, actually watching a game with a good perspective of what is happening it is normally better to sit 15+ rows back.
Atmosphere wise, behind the goals is definitely where the fans sing and make most of the noise. This is the same for any stadium in Europe, not only the Barclay's Premier League.
Transport
Each stadium in the UK has good transport links from the city centre. In London I would definitely suggest that you use the London Tube system because of the good locations they have. Tottenham Hotspur stadium requires a bus or a 15 minute walk from Sevens Sisters station whilst Chelsea, Arsenal and West Ham are all located less than 5 minutes away.
GET YOUR PREMIER LEAGUE TICKETS

HERE
Top Teams
The top supported teams of the English Premier League are as follows (in no particular order)
Everton
Where to Buy Tickets
As with all Premier League games you have the option of either purchasing them officially from the football club directly or purchasing them unofficially from the secondary market with the latter often being more expensive.
We always recommend that you try to purchase tickets directly from the box office of the club, usually online as this is the safest and cheapest method to get you in the stadium.
Official Tickets
However tickets for Premier League games are in high demand and often sell out.
The biggest clubs in English football are Manchester United, Manchester City, Arsenal, Liverpool and Chelsea. These teams sell-out their respective stadiums for most matches and definitely for those games against each other. Other teams not listed here are often sold-out but for other games, tickets can be purchased directly from the club.
Secondary Ticket Market
The black market or secondary ticket market for Premier League tickets is worth millions of pounds with thousands of tickets being sold on a weekly basis to the biggest games. The only way to get tickets normally to these games is to either purchase them online via the many websites that are selling them or outside the stadium. As there are many unreliable websites selling premier league tickets I would only advise that you use one of the websites that I have listed below. Not only have I used these websites I have also recommended these to hundreds of happy customers in the past and have never had any bad feedback. If you do decide to purchase via my recommended websites then if you could use the links provided that would enable me to keep this free from advertisements and offer free advice.
| TICKET AGENT | OVERALLL | |
| --- | --- | --- |
| | 100% Guarantee - My Choice | |
| | 100% | |
| | Not Recommended | |
| | Not Recommended | |
Outside Stadiums
If you are intending on traveling to a Premier League game and the 2 sides in the match are not in the top 10 positions then I would surely recommend purchasing directly from the club . Tickets can often be found at the ticket office for face value, take Fulham FC for example which is is West London, tickets for most games are not sold out and can be purchased cheaply from the box office or even online.
The resale of tickets by unofficial sources is illegal in England and Wales and therefore purchasing tickets is done on the black market.
If you really want to watch a top Premiership game then you can always find ticket touts outside the stadiums especially Arsenal, Chelsea, Liverpool and Manchester United. Please be careful when buying tickets and look at those who you are buying from, if they don't look trustworthy then they probably aren't. At almost all of the big games there are always fake tickets being sold to unsuspecting people outside for often hundreds of pounds.
Please use one of our top websites below for guaranteed  EPL tickets with peace of mind.
List of Premier League Teams
| Team | Location | Stadium | Capacity |
| --- | --- | --- | --- |
| AFC Bournemouth | Bournemouth | Dean Court | 11,464 |
| Arsenal | London | Emirates Stadium | 60,432 |
| Burnley | Burnley | Turf Moor | 22,546 |
| Chelsea | London | Stamford Bridge | 41,623 |
| Crystal Palace | London | Selhurst Park | 26,309 |
| Everton | Liverpool | Goodison Park | 40,569 |
| Hull City | Hull | KC Stadium | 25,404 |
| Leicester City | Leicester | King Power Stadium | 32,500 |
| Liverpool | Liverpool | Anfield | 45,362 |
| Manchester City | Manchester | Etihad Stadium | 55,097 |
| Manchester United | Manchester | Old Trafford | 76,100 |
| Middlesbrough | Middlesbrough | Riverside Stadium | 35,100 |
| Southampton | Southampton | St Mary's Stadium | 32,689 |
| Stoke City | Stoke-on-Trent | Bet365 Stadium | 28,383 |
| Sunderland | Sunderland | Stadium of Light | 49,000 |
| Swansea City | Swansea | Liberty Stadium | 20,972 |
| Tottenham Hotspur | London | White Hart Lane | 36,274 |
| Watford | Watford | Vicarage Road | 21,977 |
| West Bromwich Albion | West Bromwich | The Hawthorns | 26,500 |
| West Ham United | London | Olympic Stadium | 60,010 |
The Premier League is the most watched league tournament of football watched in the world. We aim to create pages for each of the top teams and will do so in due course. Please see our following pages for teams including Manchester United, Arsenal, Liverpool and Chelsea.
With the demand for tickets increasing, it is now more important to ensure you use trusted suppliers. In each page we detail the full ticket buying process and give you the best options.