Official Channels
Nearly all games for Manchester City don't sell-out and end up on general sale. However there are certain games where the Manchester City fans will go to the stadium, especially against their rivals Manchester United.  Chelsea  and Arsenal .
With this tickets cannot be purchased officially, hence you have to use tickets in the secondary market.
"Tickets for Manchester City matches go on sale to Cityzen club members first. If the match doesn't sell out, any remaining tickets will then go on sale to non-members.
Another great way to catch Man City matches is when they're competing in cup competitions. Tickets tend to go on sale to the general public in the lead up to match day."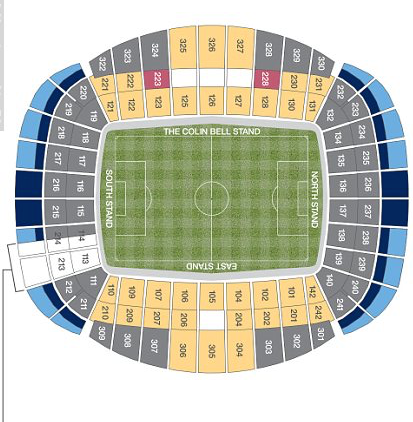 Champions League Tickets
Most games at Manchester City are not sold-out or in great demand unless they play Manchester United when all the tickets are sold. In addition to this the UEFA Champions League games can sell all the tickets, so for recommended advice then see our other teams to see who we recommend for everyone.
Outside Etihad Stadium
On the rare occasion that tickets are sold-out then you will find local re-sellers outside Manchester City's stadium, The Etihad. Tickets for the big games will be more expensive and therefore if possible check online via our trusted supplier to purchase prior to arrival. As the new stadium has increased in capacity then we fully expect that more tickets will be available officially and on the secondary market.
Man City Fixtures and Tickets
October
14 Stoke (h)
21 Burnley (h)
28 West Brom (a)
November
4 Arsenal (h)
18 Leicester (a)
25 Huddersfield (a)
29 Southampton (h)
December
2 West Ham (h)
9 Man Utd (a)
12 Swansea (a)
16 Tottenham (h)
23 Bournemouth (h)
26 Newcastle (a)
30 Crystal Palace (a)
January
1 Watford (h)
13 Liverpool (a)
20 Newcastle (h)
31 West Brom (h)
February
3 Burnley (a)
10 Leicester (h)
24 Arsenal (a)
March
3 Chelsea (h)
10 Stoke (a)
17 Brighton (h)
31 Everton (a)
April
7 Man Utd (h)
14 Tottenham (a)
21 Swansea (h)
28 West Ham (a)
May
5 Huddersfield (h)
13 Southampton (a)