Update: August 2023
The 2024 UEFA European Football Championship, commonly referred to as UEFA Euro 2024 or Euro 2024, will take place in 10 different cities across Germany. 24 National teams will play group games followed by a knockout tournament to see who will be crowned the Champions of Europe.
Tickets haven't been released for any of the games and will not until 2024, bookmark this page and we will update it as soon as UEFA announce ticket sales, ballots and application processes.
See below for some of our top choices. Prices will often be a premium but they all come with a complete buyer guarantee.
Tournament Date: 14th June to 14th July 2024.
Demand for games will be high for the Germany games as well as the other major nations competing in the competition. Fixtures will be announced after the draw which takes place when all teams have been confirmed taking place in the Euro 2024 Germany.
Official Tickets from UEFA
The official portal for purchasing and selling Euro 2024 has been open for several weeks with certain matches going on sale to the general public. The tickets available have mainly been for the less in demand games.
Tip: The morning after each major game, a small number of tickets go on sale on the UEFA website for the next round. However these sell out quickly and since the start of the tournament once the game is sold-out there are no more tickets released. 
Teams: 24
Venues: 10
Euro 2024 Cities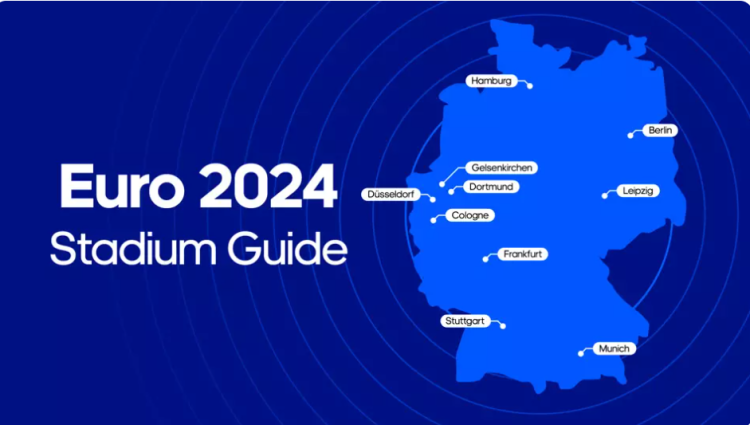 The UEFA European Championships 2024 will take place in the following cities:
Berlin
Gelsenkirchen
Frankfurt
Düsseldorf
Dortmund
Cologne
Hamburg
Leipzig
Stuttgart
Euro 2024 Venues
Allianz Arena
Signal Iduna Park
Mercedes-Benz Arena
Volksparkstadion
Merkur Spiel-Arena
Deutsche Bank Park
RheinEnergieStadion
Olympiastadion Berlin
Hospitality Tickets
Premium tickets can be purchased directly from UEFA, however most knockout stage games and final will be sold out.
Gold Type
The Gold experience includes a category one ticket, with access to the hospitality area where you will find the perfect atmosphere for your guests around our catering and fine buffet.
Platinum Package
The Platinum experience includes a private skybox, refined gourmet dining and a team of hostesses and stewards allocated to your party to provide and exceptional and discrete service.
Secondary Ticket Market
Our advice is to try and get official tickets at face value from UEFA.com, however this extremely difficult because of the very high demand and limited number of tickets in the stadiums.
The secondary ticket market for Euro 2024 will be in very high demand, with this there are many websites that are created and have no history of trust and safety.  It is important to use a reputable company that has experience and trust in ticket delivery.
The recommendations we give on this website are to ensure that you are aware of the best ticket options and where to purchase your Euro 2024 tickets, safely and securely.
My Recommended Ticket Agents
The Euro 2024 Championships are in very high demand, with this there will be many websites offering tickets for this major football tournament.
I can only recommend a handful of websites. Here is my top choice:
TICKET AGENT
OVERALL
My First Choice Website. ** 100% Guarantee on all EURO 2020Tickets
** Best Prices


Not Recommended for EURO 2020 Tickets
Not Recommended for EURO 2020 Tickets
Sell UEFA Euro 2024 Tickets
To Sell Euro 2024 Tickets then use a recommended website such as TheTicketBuyers.com. These offer a trusted buying service and have become the Number 1 ticket buying website in the UK and Europe.