EFL Cup Final 2023
Update on Final Tickets
Tickets for the EFL Cup Final are yet to be released or even announced. Bookmark this page and closer to the time, we will update with all the options on where and how to purchase tickets. Ticket prices and information will be released around November/December at the latest.
The Carabao Cup / EFL Cup Final which was previously known as the League Cup Final is the first major football final of the season which takes place in February at Wembley Stadium, London.
Final Date: Sunday 26th February 2023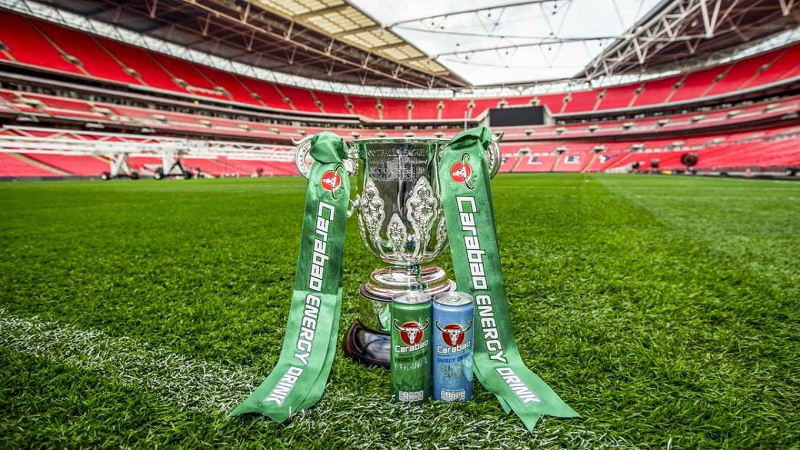 Tip #1
Only use recommended ticket agents or websites, this ensures that all tickets are fully guaranteed.
Official Tickets 
Due to the increased demand for this game, all official tickets have only been sold to existing season ticket holders of the two finalists.
If you do not own a Season Ticket to either club, the chances of getting tickets at face-value are extremely unlikely. Even owning a Season Ticket and attending all the previous games, this doesn't guarantee a ticket. The next best way to get tickets is to use a safe and trusted ticket website that has a solid history of delivering final tickets.
Online Ticket Websites
| Website | Overall | |
| --- | --- | --- |
| | 100% Safe & Highly Recommended. My number 1 choice for final tickets. | |
| | Not Recommended | |
| | Not Recommended | |
Tickets for the EFL / Carabao Cup Final are often sold for hundreds of pounds from secondary ticket sellers. Whilst there are many websites that advertise final tickets, only a handful can be trusted to deliver them.
In previous finals, there have been many fans who have purchased tickets to be disappointed because they have failed to materialize. Safe Football Tickets only recommends highly trusted websites which are listed above.
Tip #2
Purchase tickets online. Prices are often cheaper and confirmation is instant. 
My Recommended Websites for The Final Tickets
I have recommended LFT for the past 12 years (since 2010) and have always received great feedback. Unlike other websites on the market, they offer a clear and transparent delivery of your tickets. This is by far the most trusted football ticket company online. Visit them here. 
All EFL Final tickets 2022 are guaranteed to be delivered around 1-5 days before the event, sometimes even sooner. Both Liverpool FC and Chelsea will release the official tickets around 10 days before and often closer to the date. As soon as the official seats are released, the trusted sellers will then deliver the tickets via FedEx/Royal Mail Special Delivery. A limited number tickets will be in the form of e-tickets, these can be sent via Mobile or E-Mail. All the delivery details will be fully confirmed upon purchase.
Will Prices Decrease?
In short, No. The prices for the final will actually increase from now until the final. With both teams having a huge fan base, demand for tickets will be sure to increase. With this, it is important to order  before they do increase as supply decreases. We recommend that as soon as your team reaches the final, order your tickets.
Competitions
Several competitions take place online in order to win tickets to the Carabao Cup/ EFL/ Cup final 2023. The competitions will be listed here so you have chances to enter.
If you are an neutral football fan then great, you can sit wherever in the stadium you want. For Liverpool and Chelsea fans, be sure to choose the section where the your fans will sit.