Update January 2023:
The demand for Arsenal tickets is increasing for the upcoming games. We advise purchasing tickets from a safe and trusted website with a 100% guarantee.  See below our top recommendation on where to buy tickets.
This guide was created with to ensure you can find Arsenal tickets, 100% guaranteed from safe websites without losing any money.
Arsenal Football Club is one of England's oldest and most successful football teams having won 13 league titles and a record 13 FA Cups. The club plays the home games at the Emirates Stadium in north London, which has a capacity of over 60,000 fans. As Arsenal FC is a worldwide club, fans from around the world come to attend the matches and be part of the atmosphere generated only at English football stadiums.
Where to Buy Arsenal Tickets
Whilst the best place to purchase Arsenal tickets is directly from the club box office at Arsenal.com,  the fixtures always sell-out and buying tickets directly is very difficult, even more so this season with the team performing well on the pitch. The other option would be to purchase them through recommended ticket website in the secondary ticket market (listed below).
Official Club
As stated above, the first place fans should try is the official ticket office, however unless you have a yearly membership then you are not able to purchase any. The cost of an annual membership for Arsenal is £34, the most expensive membership for any club in the English Premier League. Purchasing a membership is a good investment if you wish to attend more than 4 games in a season. Tickets go on sale often 4-5 weeks before the match, but these sell out quicker than you can select the tickets on the website. The other option, like many fans do is to purchase them from a recommended resale website.
See the section below on where and how to purchase tickets for Arsenal from trusted websites.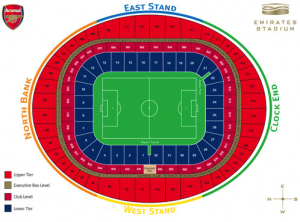 Due to high demand, it is very difficult to get tickets to Arsenal F.C. from official channels. However there is a large secondary market for the resale of tickets. We only recommend excellent websites that have a great history of delivering tickets as well as excellent customer service.
Please only purchase tickets from the websites listed below, I personally recommend these sites as being the best available online.
Where to Buy Safely and Securely
There are many websites online that offer tickets for Arsenal matches for sale, however only a handful can be recommended to provide your ordered match tickets.  My personal choice is to use the first option to be guaranteed delivery of your seats.
This list is always update; these are the best online and have a great history with football tickets.
Buying Tip: Make Purchase Online – Ticket Confirmation is Instant and the order is guaranteed. 
Ticket Website
Rating
Number 1 Arsenal Website Online - 100% Guaranteed Tickets.
Great for Premier League Seats. Our 1st Choice for Arsenal tickets. .
Avoid Website
Avoid Website.
If you do decide to purchase it would be appreciated if you went through the above links as this ensures that we can track any sales and offer free advice to more people online. SafeFootballTickets.com is the only free online website detailing advice and information of where to purchase Arsenal FC tickets.
Members and Ease of Purchase
The cheapest and safest way to get tickets is to purchase them directly from the club box office online, however this is often not a possibility. In order to have the ability to purchase tickets you are required to have an Arsenal Membership, the cheapest being a RED Membership priced at £34.
This type of membership only allows you to purchase tickets if you are lucky to get to the front of the queue (online) and quick enough to purchase the minute they go on sale.
Each game 3,500 tickets are released to RED members only, the Arsenal website is the best place to see the date each game goes on sale.
Please Note. All Arsenal tickets and especially for big games sell-out within minutes online. Demand is always high for Premier League games and Champions League.
However Games in the FA Cup (depending opponents) and English cup are in less demand and therefore this is your best bet for getting a ticket to Arsenal.
Ticket Categories and Prices
The following prices are broken up in categories of the game. For example the higher prices are for the 'big' games such as Manchester United, Chelsea and Liverpool whilst the low prices are normally for cup games such as the Capital 1 cup.
Centre Upper £126 / B £73 / C £51 
Goal Upper £89.50  / B £52 / C £36.50
Wing Upper Back £83 / B £49 / C £34.50
Corner Upper Back £83 / B £49 / C £34.50
Corner Lower £63.50 / B £36.50 / C £26
Away Fans:
Adults £62 (B £35.50) (C £25.50) Over 65's/Under 16's £26.50 (B £15.50) C £13.
We are always looking at improving our guides so if you have anything to add or contribute then please feel free to contact us. We offer free guides and recommend secondary ticket agents in case you cannot get tickets. Please use our links so that we can keep this advice free and without advertisements.
Upcoming Arsenal Games
| Fixture | Date | Comments | |
| --- | --- | --- | --- |
| All Arsenal Fixtures | All Season | Recommended Arsenal Football Tickets | |
Outside The Emirates Stadium, London
As with all stadiums in the UK, there are many local ticket resellers who sell tickets outside. Tickets for Arsenal can sell for several hundred pounds for most games. To purchase Arsenal tickets then our advice is get them in advance as much as possible, whilst some games change for TV reasons most games do actually keep their original date.